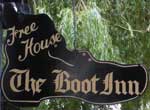 Summary of Beer Scores
The pub is found in Orleton, Herefordshire, SY8 4HN.
Black and white 16th C pub in the heart of the village. Three distinct areas. The bar is to the right of the entrance and has a bare floor and a large inglenook fireplace. To the right of this, up a few steps, is a large room laid up for dining. The room to the left of the entrance is a dining room.
We have visited this pub once, seen 3 different beers and tried 1 of them.
Postcode: SY8 4HN