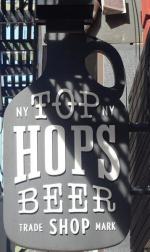 Summary of Beer Scores
The pub is found in New York, America, NY 10002.
A cosy little bar / beer shop in the Lower East Side district of Manhattan. It is a long, narrow premises, occupying the ground floor of a tenement building in Orchard Street. The walls are mostly filled with fridges displaying a wide range of bottled beers (best to avert your eyes though from the very poor UK selection). There is also a bar with a line of taps, featuring especially the burgeoning New York State brewing scene.
We have visited this pub once, seen 2 different beers and tried both.
Postcode: NY 10002