Quito Pub Beer
Visits Details
03 Mar 2016 (Stephen Harris)
Late afternoon. Pub quiet. I was grateful that they prepared a meal for me despite the kitchen being technically 'closed' at this time of day. Not the best beer I have ever drunk, but a lot better than the mass-production brands that are ubiquitous in Ecuador.
| | | | |
| --- | --- | --- | --- |
| Camino del Sol - Black Bird Stout | 5.40 | | On keg dispense. Deep brown in colour and a little sweet. Also slightly tart. Hazy. I preferred a bottled version of this beer that I drank back at my hotel, which had a fuller flavour. |
| Camino del Sol - Artesanal Red Llama Ale | 5.30 | | On keg dispense. A hazy red/brown colour. Sweetish, but also (at last) has a little hop presence, my first discernible taste of this rare herb in Ecuador. |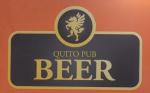 Summary of Beer Scores
The pub is found in Quito, Ecuador, EC170104.
A small bar right in the heart of the 'Mariscal' pub and restaurant district. The interior is split into a small area with the bar counter and bar stools, plus another small area with a few tables. There is a more-extensive, covered outdoor seating area at the front at the junction of Reina Victoria and Plaza Foch. Although advertised as a 'Brew Pub', there is no brewing on-site and the beers come from the Camino del Sol brewery.
We have visited this pub once, seen 2 different beers and tried both.
Postcode: EC170104