Little Prince

(Freehouse)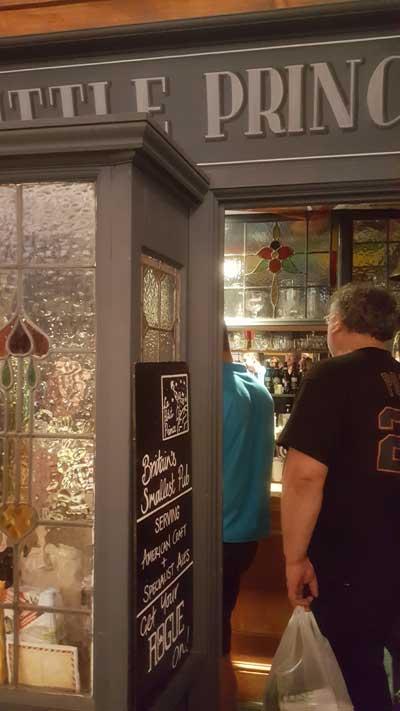 Visits Details
19 Nov 2021 (ChrisE)
No other customers at the time of my visit so I was able to manage social distancing without any problems. No cask ale on offer today so I made do with a bottle of Camden Hells which was a disappointing brew. Memo to self: order a Czech Budvar next time.
20 Apr 2018 (Magnus Greel)
Early evening and friendly welcome, we were the only customers for a while so sat at the bar chatting to the barmaid and enjoyed the novelty value of this place.
| | | | |
| --- | --- | --- | --- |
| Ramsgate Brewery (Gadds') - No. 5 | 4.40 | | Served from a takeaway beer box perched on the bar hence far too warm and tired. |
07 Jun 2017 (Philip Pirrip)
Early evening visit after a bracing walk along the seafront. We were the only two in this two seater bar. No real ale as a delivery had been missed. keg beers off due to gas problem. We had Duvel from the bottle and some rhubarb cider. Friendly licensee with much local pub scene knowledge.
03 Jun 2017 (Andrew)
Pub number 2. A nano-pub? There were already 4 people inside so we stood outside in the fake street
| | | | |
| --- | --- | --- | --- |
| Ramsgate Brewery (Gadds') - Seasider | 4.30 | | |
13 Aug 2016 (ChrisE)
Yet another new pub in Margate, and like all the others it was busy, although it doesn't take many to make this pub busy. The cask ale had run out so we enjoyed an 11% Belgian bottled beer that I can't remember the name of.