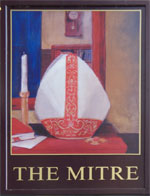 Summary of Beer Scores
The pub is found in Cambridge, Cambridgeshire, CB2 1UF.
Pub not far from the city centre on Bridge Street. Reminded me a bit of a Nicholson's pub in London, similar beer range with the descriptions of the beers on the handpumps and similar food menu. Mid afternoon and a reasonable pub to have a pint in.
We have visited this pub twice, seen 10 different beers and tried 2 of them.
Postcode: CB2 1UF