Shire Horse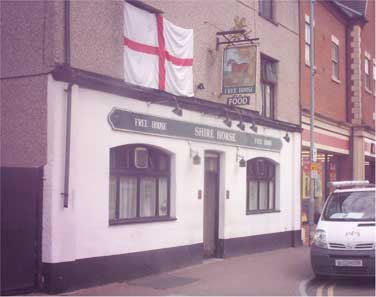 Visits Details
14 Jan 2012 (Stephen)
always feels friendly
| | | | |
| --- | --- | --- | --- |
| Potbelly - Crazy Daze | 5.50 | | probably too strong to be sensible but slightly sweet malts with a citrus hop finish hit the spot |
| Tetley - Bitter | 3.70 | Not Tried | |
| Potbelly - Bellowhead Hedonism | 4.50 | Not Tried | |
25 Sep 2010 (Stephen)
Relaxed and friendly
| | | | |
| --- | --- | --- | --- |
| Brains - The Rev James Original | 4.50 | | Decent enough but there are better beers brewed locally |
| Tetley - Bitter | 3.70 | Not Tried | |
| JW Lees (see also Lees) - Ind Coope Draught Burton Ale | 4.80 | Not Tried | |
23 Oct 2009 (Stephen)
Better waiting here than the bus stop
| | | | |
| --- | --- | --- | --- |
| JW Lees (see also Lees) - Ind Coope Draught Burton Ale | 4.80 | | Now made in Leeds I read its the best selling ale in there so decided to try it its a strong bitter rather than a Burton ale but its fine. |
| Tetley - Bitter | 3.70 | Not Tried | |
| Everards (see entries against Joule's & Robinsons from now on) - Equinox | 4.80 | Not Tried | |
03 Oct 2009 (Stephen)
nice relaxed atmosphere
| | | | |
| --- | --- | --- | --- |
| Everards (see entries against Joule's & Robinsons from now on) - Equinox | 4.20 | | Started off fine but I was not feeling great and left |
| Tetley - Bitter | 3.70 | Not Tried | |
| JW Lees (see also Lees) - Ind Coope Draught Burton Ale | 4.80 | Not Tried | |
03 Sep 2009 (Stephen)
Quiet today popped in as i needed the loo so had a pint
| | | | |
| --- | --- | --- | --- |
| Shepherd Neame - Spitfire (or Spitfire Amber Ale) | 4.20 | | Okay but the goalposts have moved in 30 years unremarkable now |
| Tetley - Bitter | 3.70 | Not Tried | |
| JW Lees (see also Lees) - Ind Coope Draught Burton Ale | 4.80 | Not Tried | |
23 Jun 2008 (Stephen)
Relaxed and friendly as usual warm evening so sat in the garden
| | | | |
| --- | --- | --- | --- |
| Cottage - Silver Shadow | 5.00 | | Very acceptable fruity strong bitter well balanced and enjoyable. |
| Tetley - Bitter | 3.70 | Not Tried | |
| JW Lees (see also Lees) - Ind Coope Draught Burton Ale | 4.80 | Not Tried | |
16 Jun 2008 (Stephen)
Friendly place as usual great collection of pump clips seemingly going back to when spitfire was just an aeroplane
| | | | |
| --- | --- | --- | --- |
| Grainstore - Pride of Scotgate | 4.30 | | Golden colour thin white head hints of citrus but really overhopped for me lingering bitter finish had 2 so not bad but in no hurry to try again, |
| Tetley - Bitter | 3.70 | Not Tried | |
| JW Lees (see also Lees) - Ind Coope Draught Burton Ale | 4.80 | Not Tried | |
03 Jun 2008 (Stephen)
an old style drinkers pubs always 3 ales on tap and friendly locals
| | | | |
| --- | --- | --- | --- |
| Grainstore - Rutland Beast | 5.30 | | Rich chesnut brown short lived head but full flavoured fruity malt sweet complex flavours with a hint of bitterness on finish lovely stuff kept me at the bar too long though. |
| Tetley - Bitter | 3.70 | | Got a little lost between pints of Rutland Beast the malt got lost and only the hops left |
| JW Lees (see also Lees) - Ind Coope Draught Burton Ale | 4.80 | Not Tried | |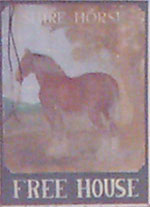 Summary of Beer Scores
The pub is found in Kettering, Northamptonshire, NN16 8JH.
Old one room pub with an island bar. Full of nooks and crannies and always seems a friendly place. Spent a pleasant couple of hours standing at the bar
We have visited this pub 8 times, seen 10 different beers and tried 9 of them.
Postcode: NN16 8JH