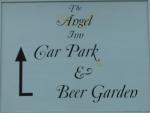 Summary of Beer Scores
The pub is found in South Witham, Lincolnshire, NG33 5PJ.
A comfortable, stone-built, village pub. Handily-placed for travellers, just off the A1. There is a variety of seating areas available, plus a separate restaurant area.
We have visited this pub once, seen 2 different beers and tried 1 of them.
Postcode: NG33 5PJ