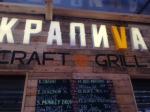 Summary of Beer Scores
The pub is found in Yaroslavl, Russia, 150000.
At one end of the main pedestrian area - street called Kirova. Terraced area undercover on the Main Street with a well stocked, western style bar area inside. 40 craft beers on draught with English translations.
We have visited this pub once, seen 2 different beers and tried both.
Postcode: 150000