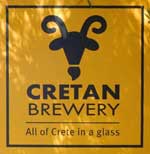 Summary of Beer Scores
The pub is found in Zounaki, Crete, 73002 Crete.
Cretan Brewery S.A is the first microbrewery in the prefecture of Chania Crete. The brewery is located in Zounaki village, in the municipality of Platanias. Its highly sophisticated industrial facilities, occupy 2000m2, surrounded by orange trees and olive groves. Found, just 25 km away from Chania city centre, on the way to the most popular beaches in the area like Balos, Elafonisi and Paleochora. The vision belongs to Ioannis Lionakis, who founded the brewery in 2007. Ioannis, a mechanical engineer in profession, was born, raised and proud to be Cretan. A long time beer enthusiast himself, he had the aspiration to offer local people and visitors, a fresh, delicious beer, which was something that was missing from the Cretan market. The vision became reality and reality turned into a perpetual commitment to excellence. At Cretan Brewery, it claims its goal is the production and distribution of excellent, handcrafted beers that exude Crete, its traditions and its timeless values through every glass. Its stated top priority is the creation of full-flavoured, pure beers without preservatives nor additives. Following the expansion of the brewery in 2015, it achieved a tenfold increase in our brewing capacity. In the new sector, it installed brand-new, up-to-date equipment, under the supervision of an experienced engineer.
We have visited this pub twice, seen 5 different beers and tried them all.
Postcode: 73002 Crete