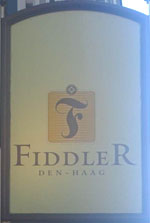 Summary of Beer Scores
The pub is found in Den Haag, Netherlands, 2513 AM.
The Fiddler is a very large brew-pub, situated in the city centre on Riviervismarkt. It has the look and feel of an old Firkin pub, not surprising as it was once the Fiddler & Firkin – the only overseas member of the chain. Look carefully and you can still sport the odd Firkin reference here and there. The tradition of brewing is maintained and there are five handpumps on the bar.
We have visited this pub once, seen 6 different beers and tried 1 of them.
Postcode: 2513 AM