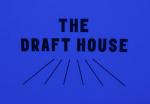 Summary of Beer Scores
The pub is found in Camden Town, Central London, NW1 9EA.
A very large, corner pub standing across the road from Camden Road railway station in Camden Road. Traditionally named the Eagle, recent years have seen a long list of re-namings and re-brandings. Now part of the Draft House chain, with six handpumps installed on the bar to reflect the new emphasis on beer. The internal décor focusses on Camden's influence on popular music. Renamed again in 2021.
We have visited this pub twice, seen 3 different beers and tried 2 of them.
Postcode: NW1 9EA