The Queens Head

(Freehouse)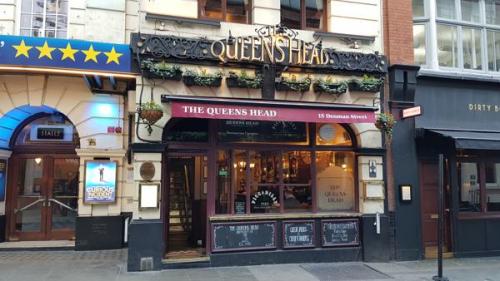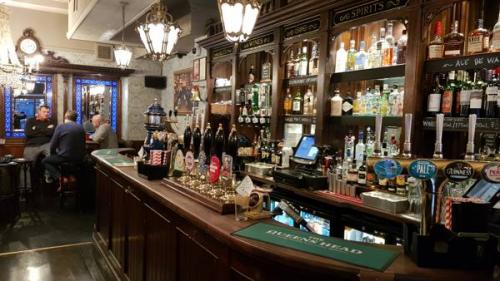 Jason Jones
Visits Details
04 Jan 2019 (Magnus Greel)
Mid afternoon to early evening, apart from our group who'd took over the rear of the pub it was remarkably quiet until theatregoers etc turned up rendering standing room only by the time we'd left.
| | | | |
| --- | --- | --- | --- |
| Dark Star - American Pale Ale | 4.70 | | Slightly acetic spoilt this normally 5* ale. |
| Dark Star - Hophead (some, if not most, also brewed by Fuller's) | 3.80 | | The entropy of aceticness transposed here however I stuck with it and after several it improved slightly to a 3.5* |
| Fuller's - London Pride | 4.10 | Not Tried | |
| Sambrook's - Wandle | 3.80 | Not Tried | |
| Robinsons - Trooper | 4.70 | Not Tried | |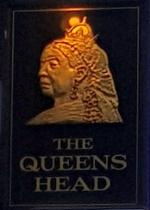 Summary of Beer Scores
The pub is found in Soho, Central London, W1D 7HN.
In Denman Street, unusual for the West End of London in that it is a free house, this compact but welcoming pub consists of a ground floor bar, with a few tables at the front and the rear and plenty of vertical drinking space with shelves for glasses and a few high stools in between, and a restaurant upstairs. The traditional feel of the place is enhanced by an attractive back bar and wall mirroring with a partly lino covered wooden floor downstairs and a most unusual old leather-fronted bar in the restaurant. Whilst an enticing menu of good-value pub food, with pies as a speciality, is available upstairs, service in the bar is limited to those pies and snacks and cheeseboards only. With these offerings and a good range of real ales, this is a popular pub at lunchtimes and pre- and post-theatre.
We have visited this pub once, seen 5 different beers and tried 2 of them.
Postcode: W1D 7HN