The Red Cow

(Mitchells & Butlers)
Visits Details
26 Dec 2008 (Dubbel)
Fairly quiet early evening on Boxing Day and surly service. Unusually, the food was substandard too so the chef must have been on Christmas leave. 3 ales available plus Aspells mulled cider (yuck). Once again the Leicestershire sparkler infestation was in evidence. I asked the barmaid to remove it but she just looked at me vacantly. Never mind.
| | | | |
| --- | --- | --- | --- |
| Batemans - XXXB (now superseded by 4.8% version) | 4.50 | | An East Midlands stalwart. Dark with ruby hues, Batemans big malt and a hint of caramel in there. |
| Batemans - Santa's Tipple | 4.00 | | I'd had my fill of Christmas specials by this point. This one didn't stand out. Typically malt-laden and dark brown. |
| Everards (see entries against Joule's & Robinsons from now on) - Tiger | 4.20 | Not Tried | House regular. |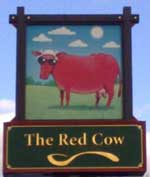 Summary of Beer Scores
The pub is found in Leicester Forest East, Leicestershire, LE3 3PG.
17th century coaching inn on the A47 West of Leicester, part of the M&B Vintage Inns brand. Gastro-oriented with a Travelodge hotel next door.
We have visited this pub once, seen 3 different beers and tried 2 of them.
Postcode: LE3 3PG