The Hangar

(Free House)
Visits Details
09 Oct 2021 (Philip Pirrip)
Evening until just after the last serving time which oddly differs by half an hour from the advertised closing time. Not my idea of a micropub, which should sell mainly cask ales. Here the emphasis is on keg beer, gins and cocktails.
| | | | |
| --- | --- | --- | --- |
| Bexley - Anchor Bay IPA | 4.80 | | Slight haze and little condition |
| Dorking - DB Number One | 4.20 | Not Tried | |
31 Oct 2020 (Philip Pirrip)
Mid evening visit. Stood at outside "wait here" sign only to be told venue was full, come back tomorrow. Seems many had pre-booked and venue was rammed, something I would never do for a pub as it takes away the spontaneity. From a quick through the window peek it is on the large size for a micropub, the booths' structure would preclude the ideal of inter-table banter / interaction and the bar counter is dominated by a Meantime keg font T-bar. So off to The Door Hinge went I.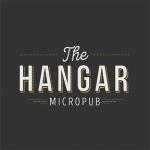 Summary of Beer Scores
The pub is found in Welling, Greater London, DA16 3PB.
Another Bexley borough micropub, a shop conversion in Bellegrove Road, it opened on Monday 26th October 2020. It is a sister pub to The Hangar in Oval, Sidcup. Darkish inside with traditional high bench seating arranged in booths, plus a low seating area at the rear. Rear garden and smoking area and some pavement tables too. Real ales are served on gravity dispense from a chilled cellar room behind the bar. The emphasis here seems to be on keg beer, gins and cocktails and not cask ale. Beware last orders must be placed no later than 30 minutes before the advertised closing time.
We have visited this pub twice, seen 2 different beers and tried 1 of them.
Postcode: DA16 3PB