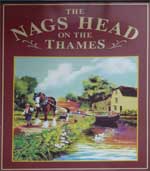 Summary of Beer Scores
The pub is found in Abingdon, Oxfordshire, OX14 3HX.
Positioned on Nags Head Island in the middle of the river Thames with an excellent beer garden where Salter's river boats drop off passengers from Oxford. Good value food.
We have visited this pub once, seen 1 beer and tried it.
Postcode: OX14 3HX