The Bun Penny

(Shepherd Neame)

We believe this building is NO LONGER a pub
Visits Details
12 Aug 2012 (Alenomore)
Walking past this to the next stop, a sad sight indeed. I "ticked" this pub on my last visit to Herne Bay according to my 1999 Kent Pub book. The excellant picture here provides a fitting memory to what is a grand old building.
04 Apr 2009 (Andrew)
We were in Herne Bay and the Prince of Wales again didn't have Early Bird on so I came here as I'd never been before. The inside of the pub was empty of customers as they were all outside.
| | | | |
| --- | --- | --- | --- |
| Shepherd Neame - Master Brew Bitter | 3.70 | | Good condition, quite well rounded with good bitterness. |
| Shepherd Neame - Spitfire (or Spitfire Amber Ale) | 4.20 | Not Tried | |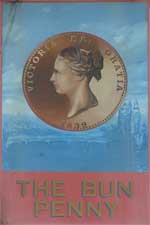 Summary of Beer Scores
The pub is found in Herne Bay, Kent, CT6 5HZ.
Large 3 roomed pub by the sea front in Central Parade. Gutted by a serious fire on 1st September 2011 which destroyed the roof. FUTURE UNCERTAIN. Since converted to flats.
We have visited this pub twice, seen 2 different beers and tried 1 of them.
Postcode: CT6 5HZ