The Royal Oak

(Shepherd Neame)

We believe this building is NO LONGER a pub

[Back to most recent] [Previous Visits]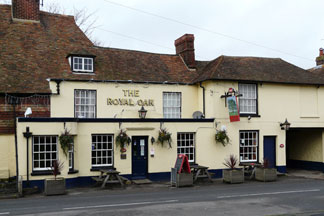 Chris Excell
Visits Details
15 Dec 2009 (ChrisE)
My first visit here for many years, and it is still just as I remember it. A proper village local with three bars, catering for all. I like the small bar in the middle.
| | | | |
| --- | --- | --- | --- |
| Shepherd Neame - Master Brew Bitter | 3.70 | | |
| Shepherd Neame - Bishops Finger | 5.00 | | Whilst there was nothing particularly wrong with this beer, it did not leave me wanting another one. |
06 Oct 2007 (Ian)
In between the magnificent England win in the Rugby World Cup over Australia and France's victory over the All Blacks I did a bit of a tour of some pubs in the Ashford area I haven't been to for a bit. This was a new addition to the 2008 Good Beer Guide so I thought that I would check it out. Late Saturday afternoon and there was a decent mix of locals in. The middle bar seems to be the public bar with the most banter. I had some interest whilst taking photos of the pub from the locals and bar staff. It struck me that they serve the beer as well as possible, so any failing goes with the brewer rather than the pub.
| | | | |
| --- | --- | --- | --- |
| Shepherd Neame - Master Brew Bitter | 3.70 | | Drank it sat outside talking to a local of the pub and recovering from my cycle ride, so it went down easily enough. Not a huge hop on the end and not near bitter enough for me either. |
| Shepherd Neame - Late Red | 4.50 | | I had two pints of this just to make sure. Some sweet malt on aroma. But none of the pleasant deep fruity malts that I associate with this beer. |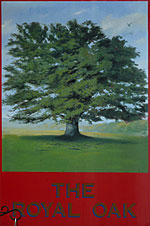 Summary of Beer Scores
The pub is found in Mersham, Kent, TN25 6NA.
Village centre pub in The Street. Long pub with central bar serving 3 rooms with a restaurant area to the left hand side and a largish beer garden. Low ceilings are hop strewn and the wooden beams give it a cosy feel. Two handpumps serving Master Brew plus an occasional seasonal from Shepherd Neame. Pub subsequently closed and sold by Shepherd Neame.
We have visited this pub 12 times, seen 27 different beers and tried 8 of them.
Postcode: TN25 6NA