The Swan & Dog

(Village Green Restaurants (Shepherd Neame))

[Back to most recent] [Previous Visits]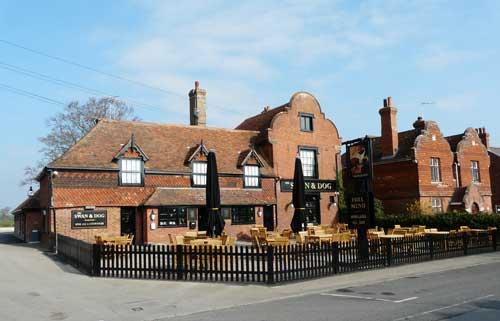 Visits Details
08 Jul 2007 (Steve)
Good venue to watch tour de france got there early managed to get a table in the front beer garden where you could see the race but it soon got very busy waiting up to 20 mins for a drink but the staff were very efficient and freindly. There were a number of pump clips behind the bar and they were advertising guest beers I'll return on a quieter day to see if there is anything interesting on
| | | | |
| --- | --- | --- | --- |
| Fuller's (part of Asahi Europe) - London Pride | 4.10 | | Classic Best bitter you can taste the hops with the malty finish |
| Shepherd Neame - Master Brew Bitter | 3.70 | Not Tried | |
| Greene King - IPA | 3.60 | Not Tried | |
17 Jul 2005 (Ian)
Ex Whitbread house, very nice garden at the front of the pub. TV inside for sports. Largish red brick building with interesting gables. Quite busy for late Sunday afternoon. Atmosphere of the village is very nice, but to be honest there is little in either the Hoodeners Horse or this pub to attract me back.
| | | | |
| --- | --- | --- | --- |
| Badger (Hall & Woodhouse) - Flowers Original (subsequently contract brewed at Brains) | 4.40 | | It has been so long since I have had a pint of this, that I have forgotten what it is supposed to taste like. Deep copper colour with some sweetish malt and some yeast and some hop. Pretty unremarkable |
| Shepherd Neame - Master Brew Bitter | 3.70 | Not Tried | |
| Fuller's (part of Asahi Europe) - London Pride | 4.10 | Not Tried | Pub handle was down so I guess it was off sale |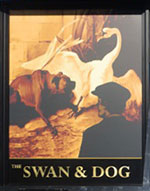 Summary of Beer Scores
The pub is found in Great Chart, Kent, TN23 3AN.
Formerly The Swan a pleasant setting with attractive garden drinking areas. Located in The Street. Lots of food emphasis. Name was changed to add a reference to the former name of the other pub in the village, Black Dog. Reported in November 2016 as sold by Village Green Restaurants to Shepherd Neame.
We have visited this pub 22 times, seen 17 different beers and tried 12 of them.
Postcode: TN23 3AN