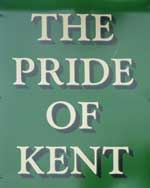 Summary of Beer Scores
The pub is found in Staplehurst, Kent, TN12 0AH.
Once the Royal Oak then The Pride of Kent, in High Street, large single room pub dating from 19th century. Became a teashop with flats above called Helen's Cafe then in late 2018 became a pub again with a further renaming. 4 handpumps. Reported early 2020 that the Rockin' Robin Guvnor was relinquished involvement in this house.
We have visited this pub twice, seen 2 different beers and tried both.
Postcode: TN12 0AH