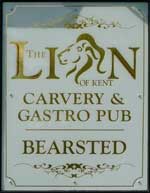 Summary of Beer Scores
The pub is found in Bearsted, Kent, ME14 4BT.
In Ashford Road, a community pub featuring a single, large, L-shaped, wooden bar and a restaurant with a carvery. It closed in 2018 for a refurbishment and reopened on 7 November 2018 as the Yeoman and now a high-class restaurant. It closed again and reopened a few months later under new management in 2019. It now offers Mediterranian cuisine.
We have visited this pub 8 times, seen 35 different beers and tried 11 of them.
Postcode: ME14 4BT