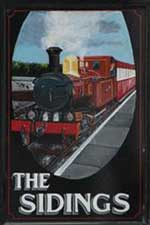 Summary of Beer Scores
The pub is found in Castletown, Isle of Man, IM9 1EF.
Ideally located next door to the steam railway station The Sidings has probably the best range of ales on the island. Turnover is such that they are usually in pretty good condition. Plenty of choice of indoor seating and an extensive beer garden to watch the trains. If you can time it right its possible to catch a train direct to the airport for your flight home.
We have visited this pub twice, seen 11 different beers and tried 3 of them.
Postcode: IM9 1EF