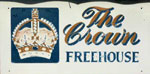 Summary of Beer Scores
The pub is found in Gissing, Norfolk, IP22 5UJ.
Out of the way country pub. Left hand side is the older part of the building with beams and a brick chimney breast. This contains the bar and is divided into two distinct areas, with a dining room towards the rear. The right hand side was added in 1925, still has the Tap Room etched glass in the door and contains the pool table and TV. The bar has three handpumps but these merely advertise the beer, with all ales being on gravity and are bought from the ground level "cellar".
We have visited this pub twice, seen 5 different beers and tried 2 of them.
Postcode: IP22 5UJ