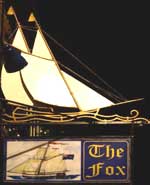 Summary of Beer Scores
The pub is found in Felpham, West Sussex, PO22 7EH.
In Waterloo Road, this pub's claim to fame is that it was the 1st permanent public house to be built in Britain after WWII. The old Fox was almost destroyed by fire in October 1946 - it was re-built in 1949 and officially re-opened on 19th January 1950 by brewers Henty & Constable. The Saloon Bar on the right features older full-height oak panelling which came from Col. Henty's house in Westgate, Chichester. To the right of the door is the old panelling, to the left there is matching panelling from 1949. The bar appears original, the counter front has fielded panelling from 1949 but a new top. The fireplace in this room is modern; the gents' contains the original big urinals. Old exterior photos show a door to the left of the salon bar which has been blocked up so originally there would probably have been an off sales (or snug) which has been absorbed into the room. The Nautical Bar on the left is also fully panelled in a lighter shade which appears to be original. It has a counter front with fielded panelling and a Formica top but it, and the bar back are modern.
We have visited this pub once, seen 7 different beers and tried 1 of them.
Postcode: PO22 7EH