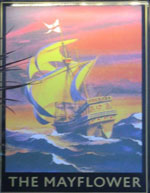 Summary of Beer Scores
The pub is found in Rotherhithe, Greater London, SE16 4NF.
An ancient, riverside pub believed to have been established, as the Ship, in 1550. Associated with the departure point of the Mayflower, which sailed from here, via Plymouth, to the Americas with a shipload of Pilgrim Fathers in 1620. The pub was rebuilt in the eighteenth century (supposedly incorporating timbers from the Mayflower) and became known as the Spread Eagle & Crown, before adopting the Mayflower name in the 1960s. It has the appearance of venerable age, with plenty of dark timber and nooks and crannies. There is a riverside, wooden, drinking platform. Popular with American tourists. 6 handpumps.
We have visited this pub twice, seen 11 different beers and tried 2 of them.
Postcode: SE16 4NF