Cured (formerly The Hop & Berry)

(Freehouse)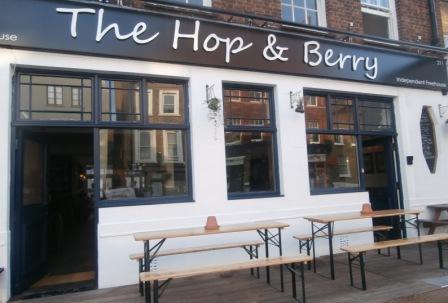 Visits Details
17 Feb 2015 (Stephen Harris)
A quick pint after an enjoyable Turkish meal at the nearby Anteplilar restaurant. I'd heard a lot about this place's commitment to London micro-breweries, so was surprised to find there are only four or five handpumps (and that only two were charged). Surprised too that there were only four or five other customers here in the mid-evening.
| | | | |
| --- | --- | --- | --- |
| Redemption - Trinity | 3.00 | | Beautiful, just beautiful. |
| Truman's - Runner | 4.00 | Not Tried | |

Summary of Beer Scores
The pub is found in Barnsbury, Central London, N1 1LX.
Formerly the Barnsbury, The Hop & Berry in Liverpool Road opened in summer 2014 with 5 handpumps and a selection of keg beers from UK national and London area micro-breweries. By mid 2016 the cask ale offering was down to 1. After a period of closure re-opened in 2017 as Cured selling keg beers only.
We have visited this pub times, seen different beers and tried them all.
Postcode: N1 1LX
This pub was formally know as the The Barnsbury.