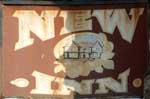 Summary of Beer Scores
The pub is found in Pembridge, Herefordshire, HR6 9DZ.
16th century timber framed building opposite the Butter Cross. The bar is in the entrance hall with the public bar to the left and the lounge to the right. A dining room and the toilets are accessed down a flight of stairs opposite the bar owing to the pub being built on a slope. The public bar has a flagstone floor, a large settle and an inglenook fireplace with an open hearth. There are two handpumps against the wall behind the counter in this bar which suggests that there was no counter at one time. The pub has CAMRA Regional Heritage status and still keeps traditional opening hours.
We have visited this pub twice, seen 4 different beers and tried 3 of them.
Postcode: HR6 9DZ