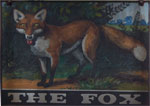 Summary of Beer Scores
The pub is found in Twickenham, Greater London, TW1 3NR.
Just off the High Street, this is a lovely little pub. Central bar serves single room. Four handpumps with beer supplied by Twickenham Fine Ales. Lots of wood inside with sports prints on the walls.
We have visited this pub 4 times, seen 10 different beers and tried 3 of them.
Postcode: TW1 3NR