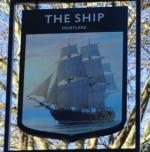 Summary of Beer Scores
The pub is found in Mortlake, Greater London, SW14 7QR.
Thame-side house just off Ship Lane. Large J shaped bar/dining area. A decked area to the side with river views. Parking outside.
We have visited this pub once, seen 5 different beers and tried 2 of them.
Postcode: SW14 7QR