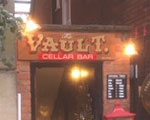 Summary of Beer Scores
The pub is found in Ellesmere, Shropshire, SY12 0EP.
A cellar conversion with an outside terrace. The pub is approached down a narrow stairway and opens up into ornate curved brick arches. The terrace is small with an additional undercover area. The whole pub, inside and out, is decorated with fascinating, eclectic memorabilia.
We have visited this pub once, seen 5 different beers and tried 4 of them.
Postcode: SY12 0EP