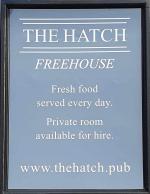 Summary of Beer Scores
The pub is found in Redhill, Surrey, RH1 6AT.
In Hatchlands Road, attractive building on a bend in the road. L-shaped bar with an additional rear room. Former Friary Meux and Shepherd Neame house. Was the Foresters Arms until 1991.
We have visited this pub once, seen 3 different beers and tried 1 of them.
Postcode: RH1 6AT