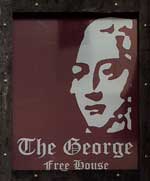 Summary of Beer Scores
The pub is found in Egerton, Kent, TN27 9DJ.
Formerly The George in The Street, reopened as the Barrow House in September 2016 by same owners at The Milk House Sissinghurst. An imposing weather-boarded pub in the centre of an attractive village. 3 letting rooms. Closed for a while for renovations so subsequently relaunched back to be The George in July 2021.
We have visited this pub 12 times, seen 20 different beers and tried 11 of them.
Postcode: TN27 9DJ