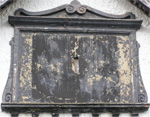 Summary of Beer Scores
The pub is found in Ightham Common, Kent, TN15 9EE.
This pub is hard to find as there wasn't a pub sign outside until 2017 when two wooden pins were displayed outside where the old sign used to be years ago. This is in a line of terraced cottages halfway along Redwell Lane, look for the gable where the sign used to be. Two cottages have been knocked together to form this true public house. The single small bar in the main room serves the pub. As there is no cellar, the beer is kept in a cool corridor to the rear and is served on gravity straight from the cask. The large wood burning fire dominates one wall. It is a little down at heel, but this is very much how pubs would have been. Very much into the beer from the wood scene and buys its own wooden firkins to be filled by local breweries. Local CAMRA branch Pub of the Year 2018, 2019, 2020 and Cider Pub of the Year 2018, 2019 too.
We have visited this pub 5 times, seen 8 different beers and tried 6 of them.
Postcode: TN15 9EE