Change in Pub Status
This pub has changed substantially and we are now adding visits to its new page, the Earl of Clarendon
Clarendon Inn

(Shepherd Neame)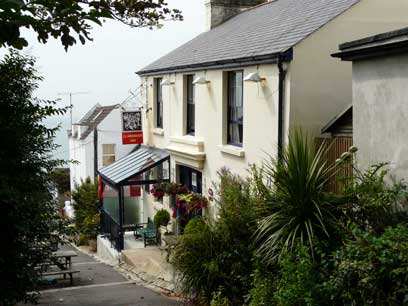 Visits Details
08 Jul 2006 (Ian)
My first visit since the new landlord/landlady took over. Still a Sheps house. I sat outside overlooking The Channel and got into conversation with a group of locals and also what turned out to be the new landlord, Henry. They were all recovering from the Folkestone Rugby Club Summer Ball from the evening before. Very friendly locals and I enjoyed the banter. Beer wasn't bad either. I will certainly be going back.
| | | | |
| --- | --- | --- | --- |
| Shepherd Neame - Master Brew Bitter | 3.70 | | Deep amber colour with bubbly off white head. Caramel and flowery hop aroma. Sticky toffee in mouth and then very dry dusty hop finish. I had a couple of these and then finished with a bottle of the 1698 bottle conditioned beer. |
| Shepherd Neame - Spitfire (or Spitfire Amber Ale) | 4.20 | Not Tried | |
| Shepherd Neame - Whitstable Bay Organic Ale | 4.50 | Not Tried | Seems to be distributed on cask now as well as in bottle. |
16 Jul 2005 (Ian)
Still one of my favourite little local pubs. Very attractive interior and the view across the Channel from outside on the benches is excellent. Sheps house, but it sounds as though the current owner may sell. He was even selling Gadds beer in a Sheps owned house!
| | | | |
| --- | --- | --- | --- |
| Ramsgate Brewery (Gadds') - No. 5 | 4.40 | | Don't remember a lot about it except that it was fine as I had had a few drinks by this stage |
| Shepherd Neame - Master Brew Bitter | 3.70 | | Fine session beer with some yeasty aroma, floral hop and caramel |
13 Jul 2005 (Ian)
I really like this pub. Up a steep side street on the seafront at Sandgate, you can sit outside and enjoy the view across the Channel. Sheps owned pub with a couple normally available as well as some Belgian bottled beers. Very friendly and relaxed. If I lived closer, I think that this would be a regular for me.
| | | | |
| --- | --- | --- | --- |
| Shepherd Neame - Master Brew Bitter | 3.70 | | Amber brown colour with distinctive Sheps yeast nose and floral hops. OK in mouth with some acids/caramel and floral hoppy dry finish. A good session bitter. This pint lasted a mere 5 minutes |
07 Mar 2005 (Ian)
Empty on a Monday lunchtime, in fact I was the only customer. Up on hill overlooking the Channel, it has 3 rooms including a public bar with real fire, lounge and dining room. Old photos and pictures adorn the walls. Uses oversized glasses
| | | | |
| --- | --- | --- | --- |
| Shepherd Neame - Early Bird | 4.30 | | Mid brown. Sheps yeast nose, citrus fruit and mild bitterness on finish. Very fresh finish |
| Shepherd Neame - Master Brew Bitter | 3.70 | Not Tried | |
12 Feb 2005 (Ian)
Definition of a real gem of a pub. Set up on the hillside overlooking the English Channel, there is lots of wooden seating inside a 3 room pub, with a public bar, saloon and dining room and a real fire
| | | | |
| --- | --- | --- | --- |
| Shepherd Neame - Early Bird | 4.30 | | Light brown beer with lots of fresh hops on the nose and citrus flavour throughout with the typical Shepherd Neame yeast flavour coming through |
| Shepherd Neame - Best Bitter | 4.10 | Not Tried | |
22 May 2004 (Martin)
| | | | |
| --- | --- | --- | --- |
| ABInBev - Leffe Blond | 6.60 | | Reliable enough, creamy/sweet blond Belgian. Good for a hot sunny day. |
| Shepherd Neame - Early Bird | 4.30 | | OK, but not really to my taste. A bit vague. |
| Shepherd Neame - Master Brew Bitter | 3.70 | Not Tried | |
| Shepherd Neame - Spitfire (or Spitfire Amber Ale) | 4.20 | Not Tried | |