The Little Gem

(Freehouse)

We believe this pub is CLOSED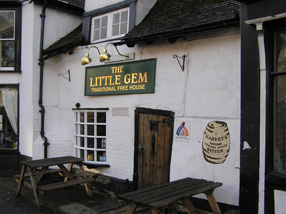 Visits Details
15 May 2010 (Pedro)
Evening visit
| | | | |
| --- | --- | --- | --- |
| Harvey's - Sussex Best Bitter | 4.00 | | |
| Eagle (formerly Wells & Young's, formerly Charles Wells, formerly Wells) - Young's London Special (was Special) | 4.50 | Not Tried | |
20 Aug 2005 (Ian)
Excellent little pub at the heart of the village in more ways than one. Very busy on this weekend due to their summer beer festival with up to 7 beers on at any one time and also a bikers festival taking place just outside the town. Excellent plentiful value for money food and beer kept in good condition. Definitely will come back again, it is about a 20 minute cycle ride from Maidstone East.
| | | | |
| --- | --- | --- | --- |
| Kelham Island - Easy Rider | 4.30 | | Pale gold, thin white head. Typical blond citrus hoppy beer, bit soapy to start and apparently on the way out according to the barman, but I thought this was excellent. Nice gooseberry, grapefruit and nettle hop aromas with more floral hop later. Excellent, with some yeast in the aroma too |
| Gale's - Trafalgar Ale | 4.20 | | Copper brown colour with lasting beige head. Good hoppy best bitter with some caramel/toffee flavour. Very drinkable. Nice malt nose and good balanced session beer |
| Smiles - Heritage | 5.20 | | Ruby coloured. Rich malt flavour with plums and strawberries on the aroma. Sweetish but pleasant. Good ruby beer with some chocolate and bitterish hops on the end with more strawberry fruit. Nice |
| Batemans - Middle Wicket | 4.20 | | Copper colour. Apple, floral hop aroma with more green apple in the mouth, some herb. Refreshing with good yeasty flavours |
| Adnams - Regatta | 4.30 | | Golden ale. Thin white head which goes quickly. some hop/yeast aroma, thin in mouth, yeast floral hop finish, some orange fruit and citric hop flavours but served too cold and overall a little thin |
| JW Lees (see also Lees) - Scorcher | 4.00 | Not Tried | |
| Skinner's - Heligan Honey | 4.20 | Not Tried | |

Summary of Beer Scores
The pub is found in Aylesford, Kent, ME20 7AX.
Just as the name suggests, this is a little gem. Taken over by the present landlord and landlady in April 2005 this is a small pub in the High Street full of character. Two room pub with main room and bar on ground floor and split level upper room with view over the ground floor. Lots of exposed original wood beams and white washed walls. Friendly atmosphere and 6 beer engines on the bar. SADLY CLOSED IN 2010 AND HAS BECOME NEGLECTED WITH SOME DILAPIDATION. Good news! - after 8 years of closure a buyer has now applied for a premises licence to re-open the pub, so at autumn 2018 there is some optimism in the air. Alleged in summer 2019 that Goacher's Brewery has purchased and will open the pub.
We have visited this pub twice, seen 9 different beers and tried 6 of them.
Postcode: ME20 7AX