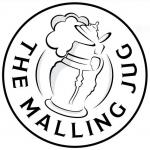 Summary of Beer Scores
The pub is found in West Malling, Kent, ME19 6LU.
Hidden down an alley in High Street, opposite Swan Street, a Micropub furnished in a smart and contemporary style, which opened in early April 2017. An L-shaped floor area with a mixture of high and low tables with mainly bench seating. Real ales and ciders are sold from behind a small bar counter, on gravity dispense from a temperature controlled cellar room. Outside patio garden. At busy times waiter/waitress service applies. The beer backboard shows brewery, name, abv, PT and pint price, and PT stands for Periodic Table and nearby is a poster explaining how the periodic table of beer styles works.
We have visited this pub twice, seen 13 different beers and tried 3 of them.
Postcode: ME19 6LU